5-Star Benefit Programs 2022
Better ways to retain talent
The ongoing skills shortage in Canada, coupled with rising inflation and recession anxiety, has created a tight talent market. Through it all, Canadian employers have had it tough. But for HRD Canada's recent 5-Star Benefit Programs winners, it has been a chance to grow, evolve, and ultimately thrive to provide benefits that their employees truly want.
Throughout the research period, the team spoke to winners and industry experts to get a benchmark on the benefits they offer. The research revealed that this candidate-led market paved the way for rising demands around flexible, personalized benefits.
According to a 2022 LifeWorks study, 55% of Canadians cite flexible working and hybrid arrangements as more important to them than career progression, with 34% claiming that wellness benefits are the sole reason they choose to stay with their current employer. The message is clear. Expectations around benefits have changed, especially in a post-pandemic workplace.
"While we have always focused on providing our associates with benefit coverage and resources, the pandemic further highlighted the need to expand our coverage to provide access to more practitioners"
Kate Interisano, Niagara Casinos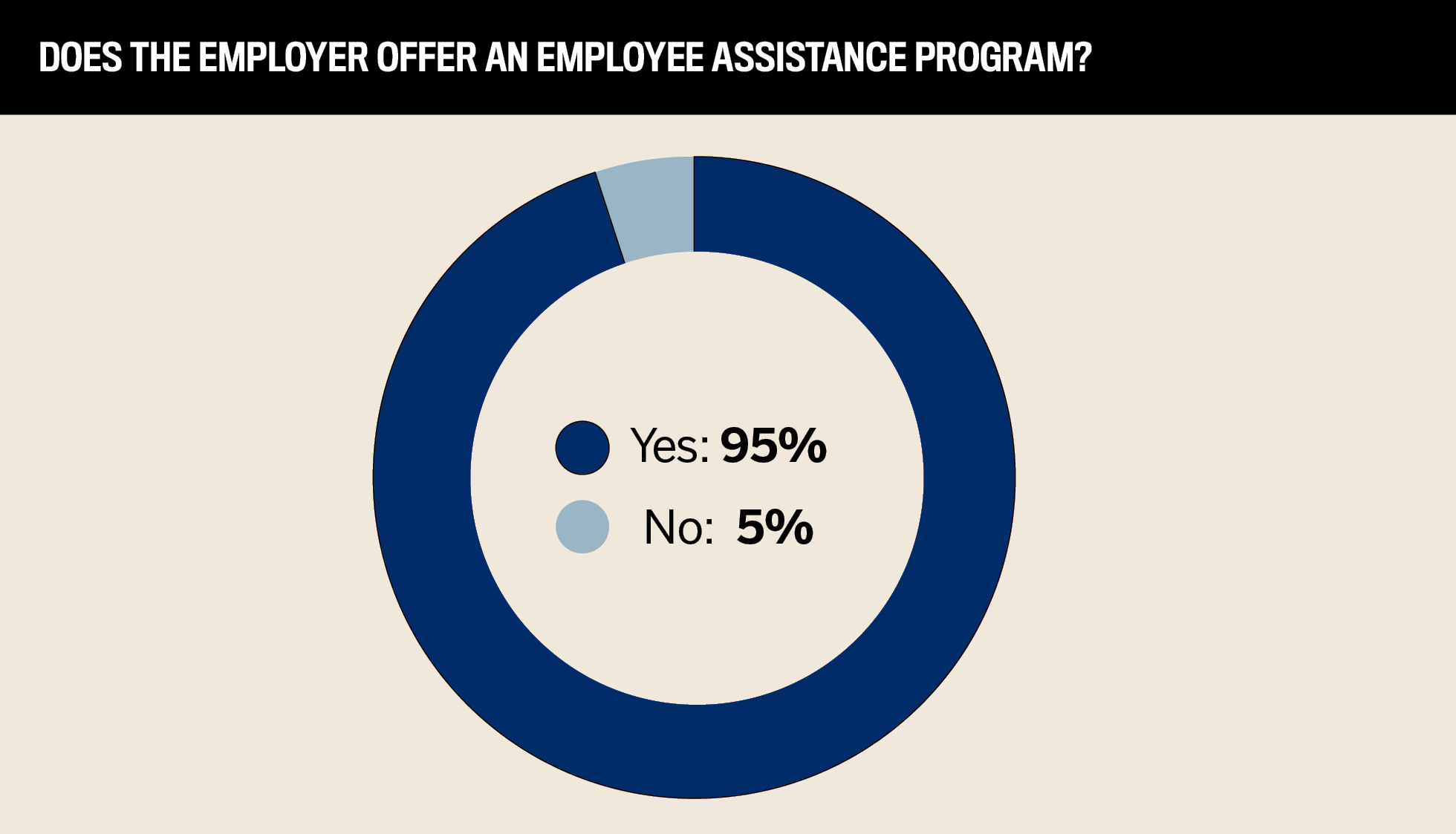 Providing access to quality care
Anthony Ariganello, CEO of CPHR Canada, says Canadian employers should prepare for a shift towards "care benefits" and away from one-size-fits-all programs, or run the risk of losing out on talent. "Care benefits speak to a number of issues. Anything from childcare to flexible working policies, they're benefits that allow people to choose when, where, and how they work," he says.
Setting aside higher wages, the most popular benefits in Canada currently are childcare, flexible working, mental health support, and financial wellbeing — not entirely surprising considering the current social milieu. A recent report from Mercer found that 42% of employees who have access to mental health support are less likely to leave their current employer when compared to the 27% who don't have access.
Since the pandemic, employers have been forced to revaluate what makes a good benefits package. Kate Interisano, compensation and benefits manager at 5-Star Benefit Programs winner Niagara Casinos, tells HRDC that her company looked at safeguarding mental wellbeing – from the top down.
"As the closure extended, we were forced to make some changes to safeguard the benefit plan to reduce costs and ensure coverage could be maintained as we gradually reopened and rebuilt the business. We also saw the pandemic take a toll on our associates and their dependents' mental health. While we have always focused on providing our associates with benefit coverage and resources, the pandemic further highlighted the need to expand our coverage to provide access to more practitioners," she says.
"Most benefits are based on traditional family structures and that leaves a lot of people out — especially those from the queer community"
Kirk Merrett, Hyundai
Wage inflation and perks
As of the second half of 2022, the Canadian economy is posed at a moment of inflection. Although the labour market is thriving and unemployment is low, wages are stagnating, fueling recession fears. Employers are unwilling or unable to increase base pay, Conference Board of Canada's chief economist Pedro Antunes tells HRDC. As such, businesses should be looking at what amended benefits programs they can roll out in order to stem the tide of resignations in the coming months.
While Antunes is firm in his belief that a competitive salary is the best way to retain employees, it's not the only way. He says that struggling employers could opt to offer one-off bonuses or payments to help with the rising cost of living, instead of increasing base salaries.
"Canadian employers seem to have a lack of confidence at the moment – especially where wages and inflation are concerned," he says. "Employers need to be prudent about using wage increases to counter inflation. Instead, look at temporary benefits that can help employees for now – not forever."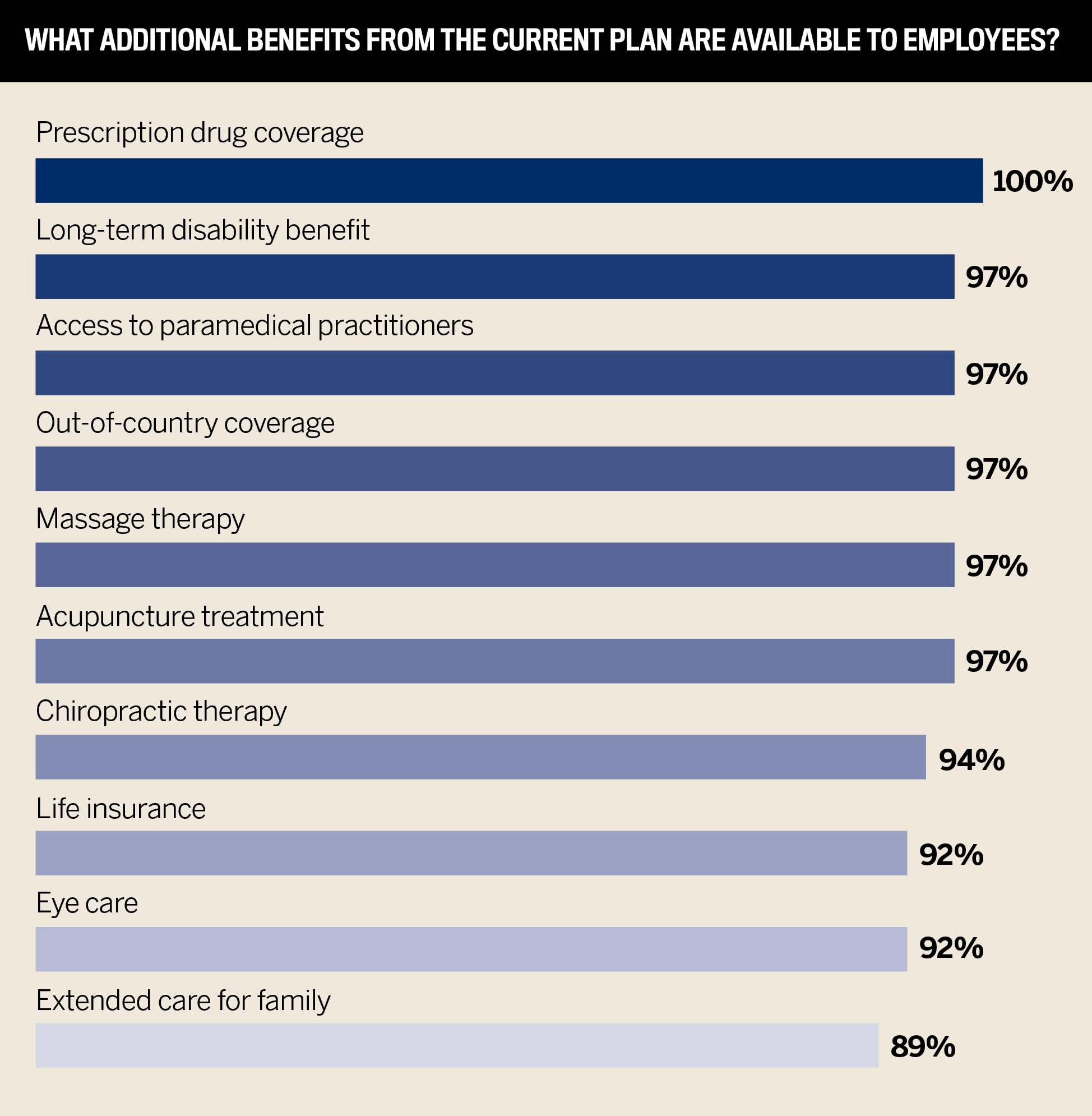 To measure ROI, think like a CEO
It's all well and good rolling out shiny new benefit plans, but if an employer is not measuring their effectiveness, there's little proof to offer the C-suite. Employers, and in particular HR leaders, have had to master the language of the boardroom over the past couple of years — and cement their leadership proposals in hard numbers. Measuring something as intangible as "wellbeing" is tough, but it begins with looking at the bottom line.
Interisano notes the importance of broaching this matter to the company's internal analytics team. She says that by working with the data, including demographic details, disability benefits, and leaves of absences, employers can better understand the impact of certain offerings and where their focus needs to be.
"I'm constantly telling people you have to think like a CEO," says executive leadership coach Teresa Duke. "Consider the ROI of your plans instead of saying 'this is just always how we've done things'. It needs to be run like a business function and evaluated accordingly. However, when you're looking at the ROI, you're just looking at the quantitative ROI, you're measuring the qualitative too."
Another 5-Star winner ADP Canada also looks to maximise the upsides of the benefits it offers and adopts a basic yet logical approach to doing so. "The more benefits you offer, however, the more important it is to continue to communicate and educate associates on these options," explains Jill Doucette, senior manager - benefits. "Many employers communicate during recruitment, onboarding, and annual enrolment time. At ADP, benefits communication and education occurs at those times but also regularly throughout the year to ensure that associates remember the wide array of benefits available."
At the end of the day, employers need to make a profit. And while it's important for them to push for authentic and helpful benefit plans, they also need to keep an eye on costs. Ariganello says that employers must offset plans with proven productivity.
"If you're supporting an employee with childcare or flexible models, are they actually becoming more productive? When you look at the return on investment, it's more than just dollars and cents. It actually translates into getting more out of the employees because they're happy in their roles. You've got to look at the total equation, not just the cost of a specific program."
This is echoed by Doucette, "If our associates are happy with their benefits package and healthy, present, and productive at work – that's a big return on our investment."
The future of non-monetary benefits
As the salary planning season officially begins, it's more important than ever before that employers cement their benefits packages before the New Year — especially given the current economic uncertainty. Research shows that employers should continue to look beyond monetary benefits, and instead build packages that help employees in their day-to-day lives.
A report from Gallagher says that 53% of HR leaders cite building benefits that appeal to a diverse staff base is one of their top challenges. Inclusivity is just as much a part of Canadian benefits packages as diversity initiatives are.
"Most benefits are based on traditional family structures and that leaves a lot of people out — especially those from the queer community," says Kirk Merrett, director of HR at 5-Star Benefit Programs winner Hyundai. Instead, employers have to look at their future perks through a diverse lens. At Hyundai, the benefits offered include surrogacy and fertility plans, gender affirmation coverage, and parental leave top-up (not just maternity leave) for the birthing individual or their partner.
However, there's no such thing as an ideal benefit plan. As with most things HR, the answer is almost always "it depends". Employers should start by building a program with the help of their employees — by asking them what they'd like to see and how the employer can better support them through the inflation crisis — while keeping ROI as a determining factor.
"For Niagara Casinos, 2023 will bring stability in our benefit plan," says Interisano. "The focus since reopening in July 2021 has been to rebuild our business and revenue, which our associates have been a tremendous asset in. We've been able to increase the majority of our benefits to pre-pandemic levels, and will continue to review our benefit plan to ensure it remains competitive and robust for our diverse workforce.
"Perfection is in the eye of the beholder. Each associate may find value in different offerings. The 'perfect plan' provides variety, flexibility and [cost effectiveness] to the employee and employer."
5-Star Benefit Programs 2022
500+ employees
300–499 employees
Centurion Asset Management
Coast Mental Health
Ottawa Community Housing
100–299 employees
BlueCat
CWB Group
The Travel Corporation
20–99 employees
Methodology
The entry process for HRD's 2022 5-Star Benefit Programs comprised two steps: an employer submission followed by an employee survey. First, organizations had to complete an in-depth submission with questions looking at three key factors: health care benefits, employee assistance programs, and leaves and allowances. Then, the organizations that successfully completed the submission phase were then sent a link to an online employee survey to be circulated internally.
To be eligible for the 5-Star Benefit Programs, organizations had to meet a minimum number of responses based on company size: 20–99 employees = 20 responses; 100–499 employees = 50 responses; and 500+ employees = 75 responses. The survey asked employees to rate their company across a range of metrics that constituted the drivers of employee satisfaction. An employer needed to achieve an overall satisfaction rating of at least 75% to be recognized as a 5-Star Benefit Programs winner.
89% of survey respondents said their benefits included extended care for family
60% of survey respondents were women
39% of survey respondents had been with their organization for over 10 years