An Open Invitation to HRPA
The Human Resources Professionals Association (HRPA) was very much a founding figure in establishing our national designation and national association years ago. That changed when they unilaterally decided to leave the national association in 2014.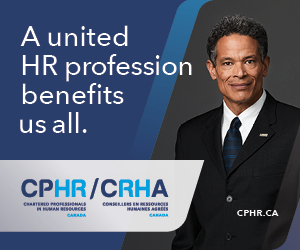 Our ability to partner together on key issues was further distanced by their decision to lower the CHRP designation — and the established framework it represented — to the junior entry level of their exclusive three-tier system of HR designations in Ontario. All of this occurred despite objections from the rest of Canada, and a formal request that they not make the CHRP the lowest of their three designations.
Due in part to the recent denigration of the CHRP from Ontario, and in part to the continued market confusion, the rest of Canada is now proudly represented by our new designation CPHR—Chartered Professional in Human Resources.
CPHR is the only designation that truly represents HR in Canada. HR has become increasingly global and CPHR Canada is at the forefront in building our partnerships internationally. CPHR Canada is the only Canadian delegate representative to both the North American Human Resource Management Association (NAHRMA) and the World Federation of People Management Association (WFPMA) and we have formal working relationships with the Society for Human Resource Management (SHRM) U.S., the world's largest HR professional society; the Australian Human Resources Institute (AHRI), the Bangladesh Society for Human Resource Management (BSHRM), the Singapore Human Resources Institute (SHRI), and the Canadian Employee Relocation Council (CERC).
On the national level, we have our work cut out, but that work is greatly alleviated by the fact that the CPHR designation adheres to all previously celebrated aspects of the CHRP—namely, one vision, one framework and one voice. It has been the work of decades and thousands of professionals to reach this point, and of that we can be justifiably proud as Canadian HR professionals.
What has happened in Ontario has caused harm to the HR profession, but it has also strengthened our national resolve.
Ultimately, though, CPHR Canada will always welcome HRPA back to the national association, if they are willing to respect our commitment to one vision, one framework, and one voice. We firmly believe that the strongest course of action for the betterment of all HR professionals in Canada is to re-unite and move forward together along a shared path.